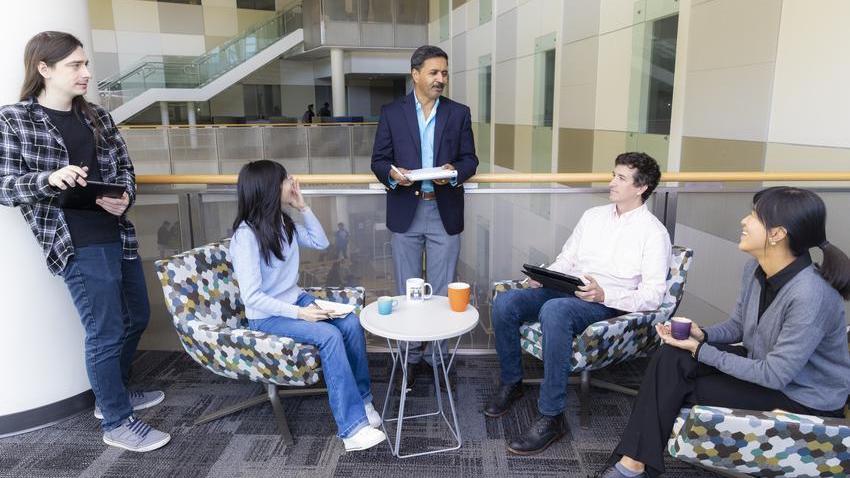 Faculty Hiring
The School of Computer Science at the Georgia Institute of Technology (Georgia Tech), in Atlanta, Georgia, USA, invites applications for several tenure track faculty positions at all ranks – Assistant Professor, Associate Professor and Professor. We seek candidates in all areas of computer science that complement and enhance our current research strengths, and are especially interested this year in candidates whose research focus is in the broad areas of database systems, foundations of AI, programming languages, software engineering, and theoretical computer science.
About Us
Georgia Tech is a top-ranked public research university situated in the heart of Atlanta, a diverse and vibrant city with numerous economic and cultural strengths. The Institute serves more than 45,000 students through top-ranked undergraduate, graduate, and executive programs in engineering, computing, science, business, design, and liberal arts. Georgia Tech's faculty attracted more than $1.4 billion in research awards this past year in fields that span artificial intelligence, biomedical technology, energy, sustainability, semiconductors, neuroscience, and national security. Georgia Tech ranks among the nation's top 20 universities for research and development spending and No. 1 among institutions without a medical school.
Georgia Tech prides itself on its technological resources, collaborations, high-quality student body, and its commitment to building an outstanding and diverse community of learning, discovery, and creation. We strongly encourage applicants whose values align with our institutional values, as outlined in our Strategic Plan.These values include academic excellence, diversity of thought and experience, inquiry and innovation, collaboration and community, and ethical behavior and stewardship. Georgia Tech has policies to promote a healthy work-life balance and is aware that attracting faculty may require meeting the needs of two careers.
The School of Computer Science, one of five schools in the top-ranked College of Computing, focuses on research that makes computing and communication smart, fast, reliable, and secure, with research groups in computer architecture, databases, machine learning, networking, programming languages & compilers, software engineering, systems, and theory. Faculty from our school are leaders in a variety of Georgia Tech initiatives, including the Algorithms and Randomness Center (ARC), the Center for Machine Learning (ML@GT), the Center for Research into Novel Computing Hierarchies (CRNCH), and the Institute for Data Engineering and Science (IDEaS). The school also enjoys a vibrant graduate student community led by the SCS Graduate Student Association. 
Job Summary
As a tenure-track faculty member, a successful candidate will engage in substantive research individually and/or with collaborators in the same or other disciplines.  In addition, a successful candidate will be expected to teach one graduate or undergraduate course per semester, in Georgia Tech's Atlanta, Georgia campus, as well as contribute service to the School and Institute.
Required Qualifications
Applicants must have a Ph.D. in Computer Science or related field (including Computer Engineering, Electrical Engineering, Infromation Science, or Computing) when they start. Applicants must show evidence of outstanding academic research credentials and stellar potential in their field of study, a sincere commitment to teaching, and an interest and ability in promoting an inclusive and welcoming educational/work environment.
Application Requirements  
A full application should include:  a cover letter, research statement, teaching statement, curriculum vitae, and the contact information of at least three references.  We ask that applicants clearly indicate their research area(s) and focus in their cover letters.  Applications should be submitted at 
https://academicjobsonline.org/ajo/jobs/26273
Applications will be considered until open positions are filled. For full consideration, applicants are encouraged to submit their applications by December 31, 2023.   
Contact
Requests for information may be directed to Kelly Rockwell at krockwell@gatech.edu 
Equal Employment Opportunity
Georgia Tech provides equal opportunity to all faculty, staff, students, and all other members of the Georgia Tech community, including applicants for admission and/or employment, contractors, volunteers, and participants in institutional programs, activities, or services. Georgia Tech complies with all applicable laws and regulations governing equal opportunity in the workplace and in educational activities. Georgia Tech prohibits discrimination, including discriminatory harassment, on the basis of race, ethnicity, ancestry, color, religion, sex (including pregnancy), sexual orientation, gender identity, national origin, age, disability, genetics, or veteran status in its programs, activities, employment, and admissions. This prohibition applies to faculty, staff, students, and all other members of the Georgia Tech community, including affiliates, invitees, and guests. 
Georgia Tech is a member of the University System of Georgia (USG), where every member of the community is required to adhere to the USG Statement of Core Values – Integrity, Excellence, Accountability, and Respect – that form and guide the daily work of the organization. USG and its institutions foster an environment where all members of the USG community are free to share ideas and opinions. Learn more about Academic Freedom and Freedom of Expression at https://provost.gatech.edu/academic-freedom-and-freedom-expression.